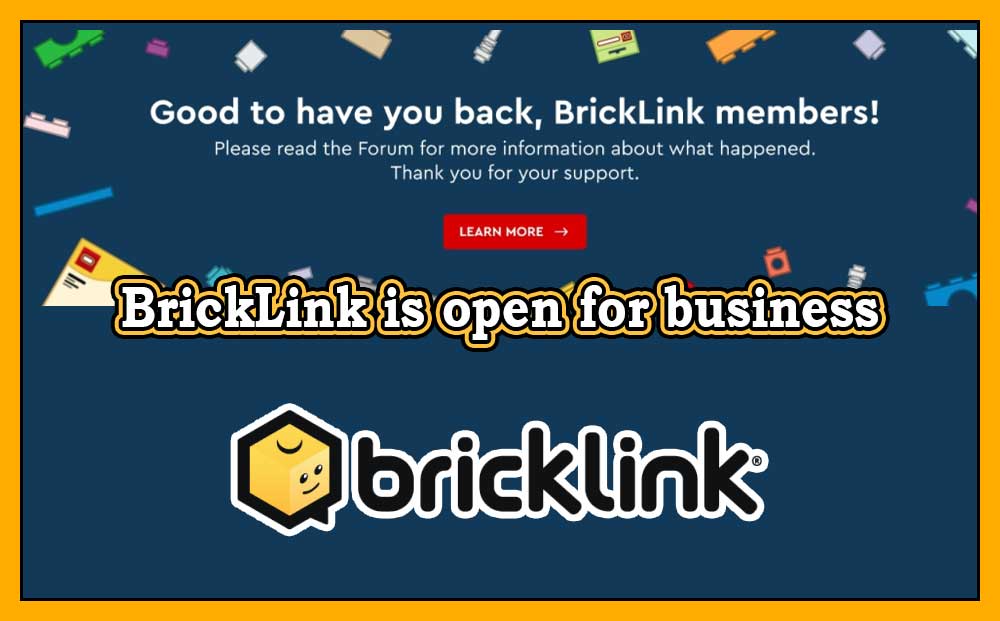 Bricklink er oppe igjen

🥳

🥳

🥳
Endelig er BrickLink oppe igjen. Siden 3 november har nettsiden vært nede, da flere kontoer på Bricklink hadde blitt hacket.
Dette er meldingen som møter oss på Bricklink nå 🥳
Dear BrickLink members,

Welcome back and thank you for your patience. We were down for longer than anyone would have wanted. Now that we're back up and running, we can share with you what's happened.

As many of you will know, we received a threat and ransom request on Friday, November 3rd, so we put the site into maintenance mode out of an abundance of caution while investigating. A very small number of BrickLink accounts may have been accessed, but there is no evidence that our systems were compromised.

We've added additional safety measures to the site, and all users are required to reset their passwords to log in. Accounts that may have been impacted will be required to go through additional security steps.

You can find more information on our forum post.
Nå som BrickLink er oppe igjen, hva må du som bruker gjøre?
Nå blir du tvunget til å bytte passord, noe som er forståelig og helt greit.
Nettsiden er lik som før, men når du skal logge inn for første gang må du bytte passord. Prøver du å logge inn med det passordet du har hatt, får du opp en melding om at du må oppdatere passordet ditt.
Når du klikker på «Update password» kommer du til en side der du må legge inn den e-post adressen du har registret tidligere.
Nå kommer opp en ny melding, denne gangen på du innom e-posten din for å klikke på linken som Bricklink har sendt deg.
I e-posten du får fra Bricklink er det en link du må klikke på for å komme inn å få byttet passord. Det nye passordet skal være mellom 8 og 15 karakterer. Anbefaler selvsagt å ta maks som er på 15 karakterer. Husk å ikke bruke passord du bruker andre steder eller er navnet, dato eller lignede på familiemedlemmer, venner, dyr osv. Passord skal være en blanding av bokstaver, tall og symboler for å kunne være et bra passord.
Når dette er gjort er du inne på Bricklink igjen 🥳

Hva har Bricklink kommet ut med informasjon i disse dagene?
Her er de meldingene Bricklink har lagt ut på sine nettsider disse dagene. Du kan lese mer om dette på forumet på Bricklink.
We're sorry Bricklink continues to be unavailable.
Update November 4th. 3.55 pm EST We continue to investigate the unusual activity. We aim to restore normal operations as swiftly as possible.
Oppdatering:
Update November 5th. 4.40 pm EST

Friday we temporarily closed the BrickLink site due to unusual activity.

Since then, the team has been working super hard to make sure we can reopen as soon as possible – and we're getting closer to doing that.

Thank you for your patience and support. We're grateful to have such amazing members.

We know it's frustrating and disappointing. We want to assure you we're working as fast as we can – and not getting much sleep – to restore BrickLink.

Many thanks,

Your BrickLink team
Ny oppdatering:
Update November 6th. 4.02 pm EST

Friday November 3rd, we temporarily closed the BrickLink site due to unusual activity.

Since then, the team has been working super hard to make sure we can reopen as soon as possible – and we're getting closer to doing that.

Our investigations so far suggest that a very small percentage of our accounts may potentially have been accessed by unauthorized individuals. We'll be in contact with people directly soon with more details.

Thank you for your patience and support – the kind posts we see from all of you on social media make a real difference to the team here.

We know it's very frustrating and we're sorry that BrickLink will unfortunately be closed for a bit longer.

Many thanks,

Your BrickLink team
Ny oppdatering:
Update November 7th. 5.55 pm EST

Our investigations so far suggest that a very small number of accounts have or may potentially have been accessed by unauthorized individuals with data obtained outside our platform. We'll be in contact with these members directly with more details on how to reopen their accounts.

We're getting ready to reopen BrickLink soon but we're still not able to provide a specific time.

When we reopen, we've locked all accounts – impacted or not – as a precaution that will require all members to reset their passwords to access their accounts.

We strongly advise all our members to practice good data security. Install and run security software and create strong, unique passwords.

Thank you for your continued patience and support – the kind posts we see from all of you on social media continue to make a real difference to the team here.

We know it's very frustrating, there is light at the end of the tunnel, we thank you for having a bit more patience with us.

Many thanks,

Your

BrickLink team
Nå er Bricklink åpent igjen 🙂
Dette skriver de på sin Facebook side 8. November kl 19:14
TODAY IS A GOOD DAY!

Dear amazing BrickLink members, we are happy to tell you that we have reopened BrickLink today. 💙

Some of you will have received emails with directions on how to reopen your accounts and for those that haven't, please go to BrickLink and follow the prompts to get back into your accounts. We look forward to having you back!

IMPORTANT! We encourage everyone to practice good data security. Keep your systems up-to-date with the latest patches, use security software, and create strong, unique passwords for each website you use.

Once you are back on the site, you can read more about what happened on the related help page and in the Forum.

Thank you again for the incredible support you have shown us during these past days of struggle.

Your – very relieved and a bit tired – BrickLink team 💛