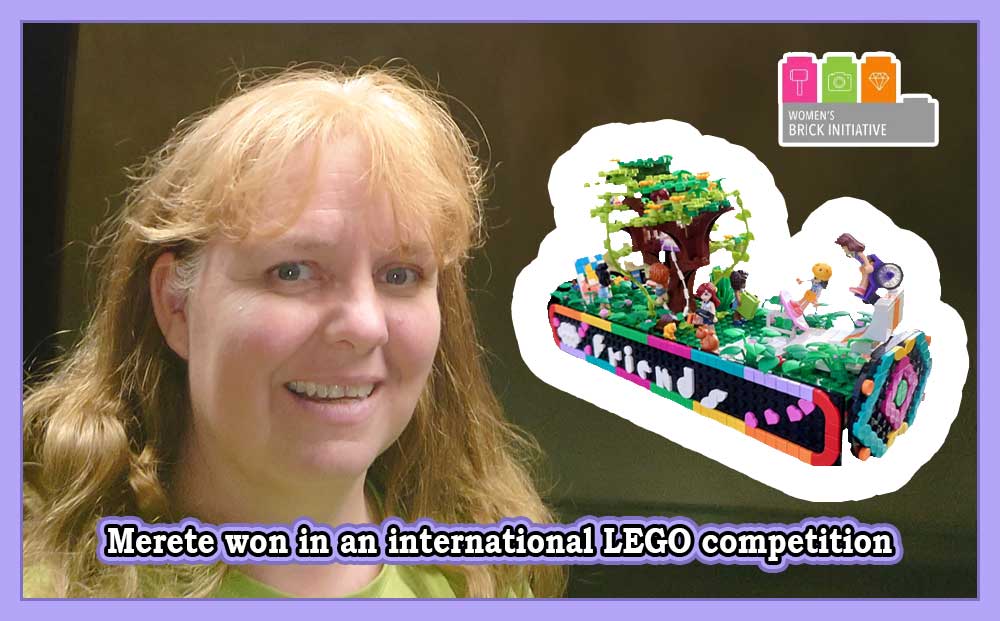 Merete fra LEGO master Norge vant i internasjonal LEGO konkurranse
Merete Nilssen kjent fra LEGO Masters Norge og leder av Brikkelauget vant nylig en internasjonal LEGO konkurranse. Women's brick initiative (WBI) var arrangør av konkurransen der fire vinnere ble kåret. Vinnerne får sine bygg utstilt i LEGO House sin gateparaden i World Explorer Zone.
BrikkeFruene gratulerer 🥳🥳🥳
Hva gikk konkurransen ut på?
Dette skriver WBI på sine nettsider:
We can't think of a better reason for a contest!

Your challenge, if you choose to accept it, is to build a parade float. The space in the World Explorer Zone is roughly 182 studs long, so to allow for spacing and placement of characters, please make your float around 40 studs long. The floats will be placed on roadplates, and should be 12-13 studs wide.

There will be four winning floats, and each should have a dedicated theme. We'll be looking for themes that celebrate WBI's core values, including the following:

Celebration of Pride
Diversity, Equity & Inclusion
New Friends cast highlight their diversity
Strong women!
Any celebration of inclusiveness!

Entries are due July 15, 2023. You can enter by posting picture(s) to Instagram or Facebook with the hashtag #wbiparadefloat.

Winning entries will be displayed in Billund at LEGO House for approximately one year starting in September 2023. Unless you're traveling to Billund yourself, entries will need to be mailed to someone attending Skaerbaek Fan Weekend. Please keep that in mind when building.
Vinnerne
«Love is love is love» bygget av Shannah Eitter
«Dream Big» bygget av Jo Charlton Dixon
«Spreading love around the world» bygget av Cheryl Troeh DeHaan
«Friends» bygget av Merete Nilssen
Bilder av Merete sitt bygg
Bildene er det Merete selv som har tatt av sitt bygg «Friends»
Bilder fra de andre vinnerne
Bildene er fra Women's Brick Initiative sin Facebook gruppe.
Women's Brick Initiative skriver dette om deltakerne i denne konkurransen på Instagram
We had so many fantastic entries in our #wbiparadefloat contest! We loved all the floats so much we'll be asking all participants for permission to share pictures of their creations on our webpage. Our judges had a very difficult time making the final decision.

After extensive conversations amongst all the judges, we are proud to share the winning floats that will be displayed at LEGO House later this year:

«Love is love is love» built by Shannah E
«Dream Big» built by Jo D
«Spreading love around the world» built by @cheryl.dehaan
«Friends» built by @mernilss

Thank you everyone for participating, and congratulations to Shannah, Jo, Cheryl, and Merete!